I am
super duper
(yes, duper) excited to be co-hosting Toddle Along Tuesday with Mama G from
Growing Up Geeky
today! The theme this week is favorite photo (chosen by yours truly, duh.). Make sure you link up at the end to share your favorite photos! I had
such
a hard time coming up with this, and was wavering back and forth between choosing a photo from March only, or 2012 only, or favorite ever...it's so hard to pick! So I decided to share a few of my favorites, and share them in chronological order because you can really see what I've learned (and how awesome I am--can I get a hair toss?) about photography since I picked up my camera last January. I also have to say that I just started an awesome new workshop through
Clickin' Moms
(Shooting 301, if you're interested) and have already learned
so much
. Anywho, just a little shout-out to my most favoritist (yes, favoritist) website for all things photography-related.
pre-Clickin' Moms...I do still love this one, despite all its technical flaws!
taken during Shooting 101 through Clickin' Moms...the way the light is falling on her face is so pretty--and so unintentional haha!
close-up and learning how to convert to Black and White
figuring out how to use a reflector, how to position a subject to the light source, and how to get a baby to sit still for a picture (hello, Bumbo!)
taken at the Botanical Gardens...figuring out backlighting
I love me a good silhouette at sunset picture!
what a sweet little face
pigtails and vibrant color!
starting to play around with more interesting compositions
peaceful kitty!
Annnnd now I'm crying looking at how E has grown up over the last year! Tear.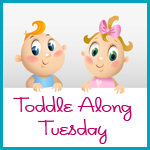 This week's Toddle Along Tuesday topic is
your Favorite Photo
! It can be of anyone or anything, so long as it was taken by you. And it's going to be a little contest this time! For more information about the contest and prize, visit
Growing Up Geeky
.
xoxo